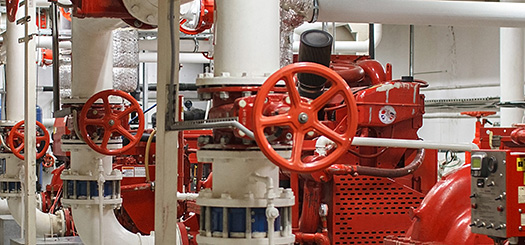 Fire Protection Engineering
Safety Focused
EBL's fire protection division provides design and consulting services for fire protection, life safety, and code interpretation and compliance. Our team of fire protection engineers provide a full range of services, from consultation to intricate design challenges, to assure the safe functionality of facilities and processes.
Fire Protection Expertise
We are staffed with licensed fire protection engineers specifically trained in risk analysis, hazard assessment and the design of fire protection and detection systems. We integrate fire, building, Life Safety Code® and International Building Code® requirements to produce compliant program and design solutions that are consistent with a building's projected use.
Services
Design for Fire Alarm, Fire Detection, Fire Sprinkler, and Fire Pump Systems
Hydraulic Calculation Analysis and Preparation
Special Hazards Systems
Fire Protection Water Supply Systems
Annual Focused Standards Assessments
Equivalency/FSES Engineering Technical Letters
Fire Safety Evaluation System and Audits
Witness Testing of Fire Protection Systems
Computer Fire Modeling
Fire Loss Investigation/Litigation Support
Smoke Management System Design
Hazard/Risk Assessment Services
Code Interpretation and Compliance
Life Safety and Egress Studies
Evaluation of Fire-Resistant Building Elements
Fire Protection Condition Assessments and Audits
SFO Surveys